The Complete Baby Nursery Guide
Getting a nursery set up for your baby can be fun, exciting and overwhelming at the same time!  There are a lot of must haves for a nursery and a lot of nice touches.  There are also probably a lot of things that you may have not even thought about!  When I was planning my baby's nursery I wanted it to grow with her so that we would not have to buy new things all the time.  This also means making sure to get quality items that can stand the test of time (and toddlers!).  Below is my list of my must haves and other helpful items I have in my baby's…now toddler's room.
This post contains affiliate links to products that I use and love.  Please see disclosure for full details.
Crib and Dresser
Hopefully one of the first things you think of getting for baby's room is a crib and dresser.  This was a big decision for us because, like I mentioned before, I want something that will last.  It is good to buy these as a set so that they match but you certainly don't have to.
Some helpful hints when shopping for a crib:
get a convertible crib – one that can transition into a toddler bed and then into a twin/full size bed down the road.  This means that you only have to buy them a bed once!  I plan to have my kiddo use her convertible crib/bed for as long as she is living with us!
quality build – If you plan on using this crib for years to come make sure it is well built, some of my favorite brands when shopping around were franklin & ben and Million Dollar Baby which can be found at buybuyBaby stores and others.  I do recommend doing some shopping in person if you can so you can touch and feel the quality.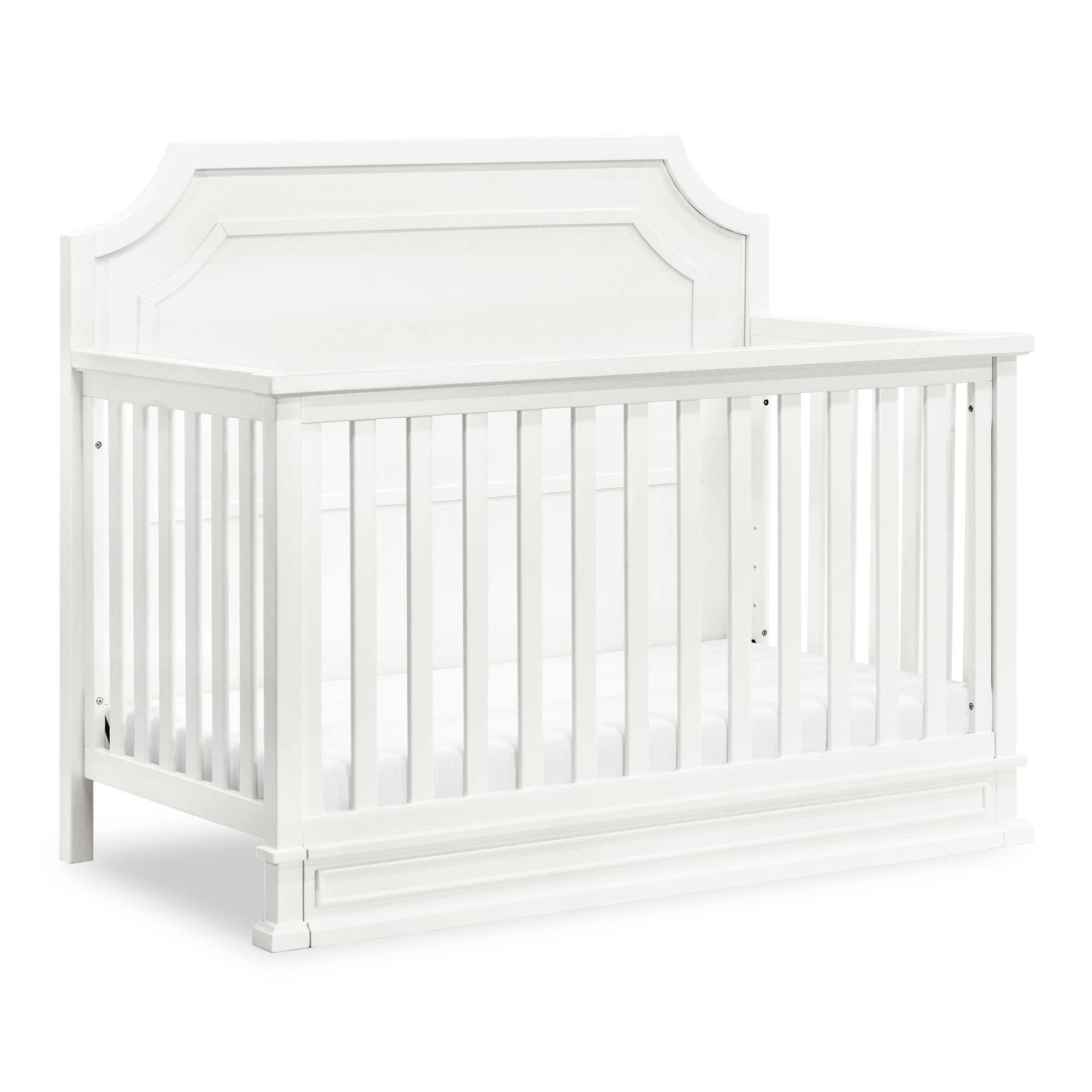 Dresser shopping hints:
low dresser/changing table – avoid the tall dressers so that you will be able to use the top of your dresser as a changing table.  I never did get the changing table additional piece for the top of the dresser and I never felt like I needed it.  I just got a regular changing pad and put some non-skid shelf liners underneath it so it wouldn't slide and it worked great.
self-closing drawers – this was a big thing that I personally wanted for my dresser for a few reasons.  First I feel that they are much safer since my little one (who is almost 2 now) still can't open the drawers herself, which means she can't climb it either! You should still always secure your furniture with anti-tip hardware but I feel better knowing she can't climb up her dresser. Also they are so quiet and always closed!  This also saves us from her opening all her drawers and pulling out all the clothes I probably just folded! The self-closing feature can be hard to find but they are out there.  The brands that I have found to have the most options with this are the same franklin & ben and Million dollar baby that I mentioned above.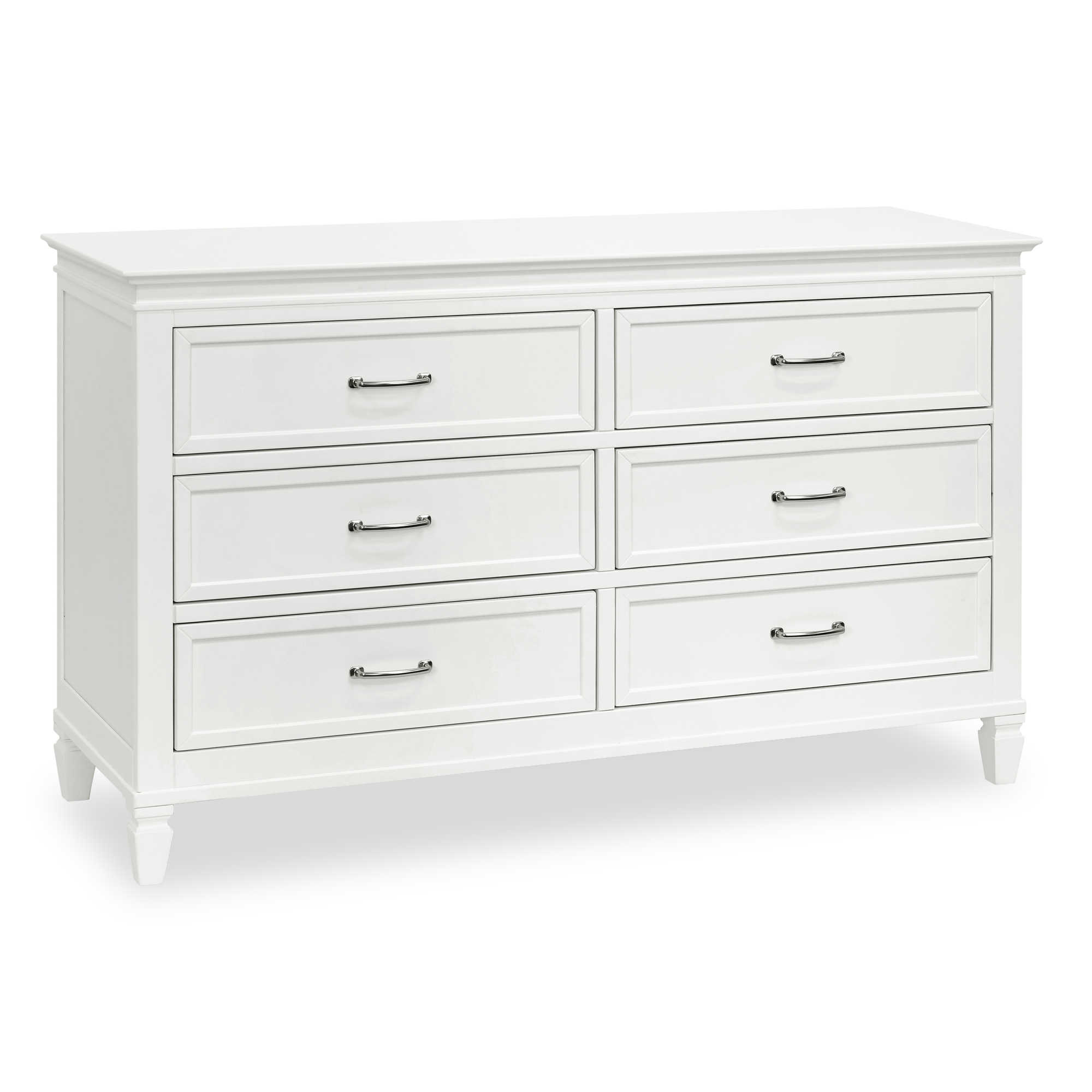 Toy Storage Box
Keeping the baby's room organized was a big must have for me!  The more out of sight all the clutter can be the better.  Not that it will stay that way, but I can dream!  For this reason we definitely wanted a big sturdy toy box.  I prefer to buy solid wood furniture as much as possible because I find that the particle board and MDF furniture simply does not last well.
Our toy box, pictured below, was purchased from a local unfinished furniture store that makes all solid wood furniture that we love at great prices.  If you don't have a store like this near you I also found this solid wood toy box on Amazon that can come unfinished or finished depending on your preference.  It is important to make sure they have the kid safe hinge for soft closure to avoid pinched fingers!
To put her name on the box we bought these awesome letter wall decals that you can stick and re-stick as many times as you want without damaging your walls or furniture.  I really liked the fun designs of this package but the company also makes lots of other colors and designs too!
Clock
This was a really important one for me while I was breastfeeding my little one.  I tried to be consistent with how much time she was spending on each side so having a clock I could read clearly from across the room in the dark was a must.  I bought a really cute one with a white light numbers first but it turned out it was really too bright.  So I do recommend that you get the red numbers as they are much less bright while still being clear in the dark.  I also recommend getting one that runs on batteries so you can put it up on a shelf out of little ones reach and not have to worry about a cord.  This is the one that I have in our nursery that is working great for us!
Bookshelves
Babies and Kids just love books!  They are great for their development but you will also need a place to store them.  Especially if you stock up on as many books as we have!  I ordered these ikea spice racks and hung them on the wall to make a cozy reading corner.  This works great because my little one is able to easily see her favorite books and get them down herself.  I also love our oversize bean bag chair for a comfy place to cuddle and read together!
These spice racks do come unfinished.  You could certainly use them as it but I preferred to paint them white.  Spray paint made this super easy and quick for my husband to do.  These probably won't be able to hold all of baby's books so I also have a 4 bin storage cube from Target.  This works great for additional books as well as some storage for sheets, blankets and swaddles/sleepsacks.  And I love these cute 3 Sprouts storage bins!
Wall Shelves
You will probably want some cute decorations for baby's nursery.  These items are best kept out of the reach of your little one so I found these wall shelves to be perfect.  Simple minimal design but sturdy and easy to install.  I like that these have a little lip around the edge so you can lean things against the wall and they wont slide off the edge of the shelf.  Just the right size for a few nice touches, and the clock!
Wall Mount for Monitor
If you have ever tried to put a monitor in just the right place to see your baby while they are sleeping then you know it can be a bit tricky!  Dressers or shelves can be too high or too low or too close to the crib or too far away.  It is difficult to see through the side slats so it's ideal if you can get a high view looking down.  This wall mount has been perfect for us!  It sticks to anywhere on the wall (they have a corner version too) using command strips so there won't be any damage when you take it down. This allows for the best view of baby all night long!
Glider/Rocker
Having a comfortable place to sit and rock baby is an absolute must! I highly recommend going into a store to test these out in person.  Everyone may have a different preference in the type of seating.  I choose this awesome glider with ottoman from buybuyBaby and I have loved it for the past 22 months I have had it!
I wanted an ottoman instead of a recliner so I could put my feet up without having to pull or press anything or jolt the baby.  I was surprised at how fast some of those recliners popped open!  I wanted just a neutral color so that one day we could use it in a family room if we wanted to.  Also recliners typically don't rock while you have your feet up and with this set the ottoman rocks with the chair so I can rock away.
Something Special
This credit for this piece definitely goes to my super thoughtful husband.  I love having this special touch in our daughter's room and she will be able to keep it forever.  We just happened to wander into a Dr. Seuss art gallery in our town (I didn't know there was such a thing either!).  It was definitely interesting, and who doesn't love Dr. Seuss.  They had tons of limited prints of his work from all sorts of styles.  I was pregnant with our first baby girl at the time and mentioned how I thought these would make an awesome gift for her at some point.  They are kinda pricey, especially framed, so we didn't splurge for one at the time.
A month or so later my sweet husband gave me one as a birthday present!  I absolutely love it and it looks perfect in her room!  You probably can't read from the picture but its from his book Oh, the Places You'll Go and it says "Kid, you'll move mountains!" at the bottom.  It was my favorite when we were at the gallery!
Obviously this is a pretty specific piece, but I would recommend that you find some sort of special touch that you can add to your baby's nursery.  Something that they could keep with them forever and cherish years down the road.
I hope you found some useful tips for setting up your baby's nursery in this post.  Already have a nursery set up? Let me know some of your favorite nursery items in the comments!